Accra, 23rd March 2023: The Ghana Stock Exchange (GSE) has signed a Memorandum of Understanding (MoU) with Minerals Income Investment Fund (MIIF). This MoU was signed with the view to establish a practical framework for the development of stronger business relations between the two parties and set forth the procedures to create an asset class and promote the trade in minerals securities on any of the GSE's markets.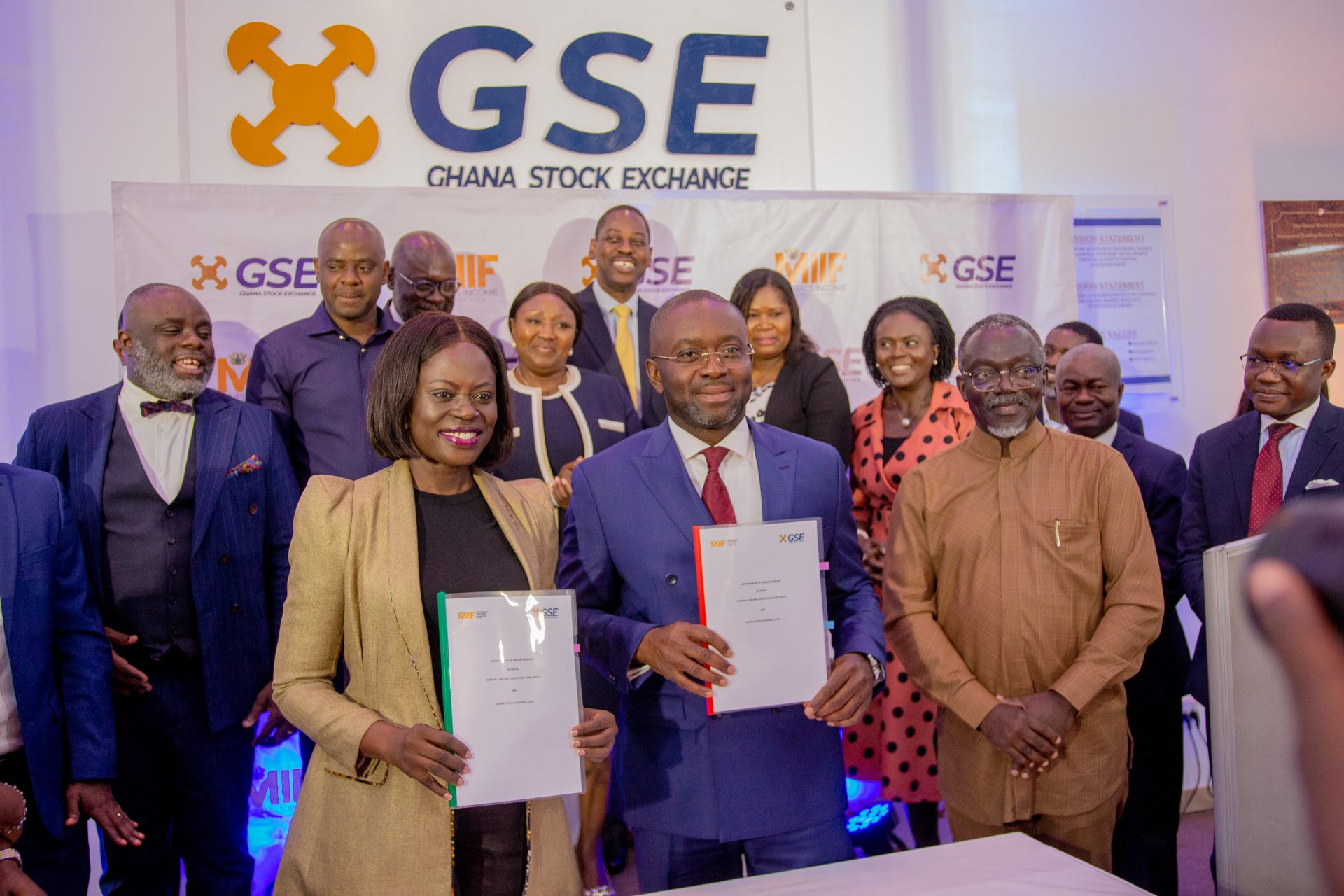 As part of the collaboration, MIIF is expected to recommend all mining companies in which it has equity investments for listing on the GSE. Furthermore, MIIF will develop a sustainable mining program for small-scale miners that will provide feedstock to certified gold for an Exchange Traded Fund.
In her remarks, the Managing Director of GSE, Abena Amoah expressed her excitement about the partnership with MIIF and the opportunities it presents. ''The two mining companies listed on the Exchange is not a good reflection of Ghana's position as the largest producer of gold in Africa. There must be a deliberate strategy to get more mining companies to list on the Exchange to deepen the local capital market. This partnership is therefore timely, and it will also maximize the value derived from the country's mineral resources once these listings crystalize.''
The GSE among other things will make available its platforms for companies working with MIIF to access capital from any of GSE's markets (working capital, long-term debt, and equity). MIIF will also will lead the education and sensitization of market players on some mineral asset classes to be created, while the GSE will provide technical assistance in the development of a Gold-backed ETF, or other mineral-backed ETFs.
Speaking at the ceremony, The CEO of MIIF, Mr. Edward Nana Yaw Koranteng expressed delight about the partnership with the GSE. "The objective of MIIF in line with the vision of the President of the Republic of Ghana, Nana Addo Dankwa Akuffo Addo, is to help develop the entire mining eco-system of Ghana by supporting the sector's accessibility to capital and most importantly create Ghanaian mining champions. The capital markets have remained the engine for accelerated access to long term capital for mining companies worldwide and it is important that this lever is given to Ghanaian mining companies. It is also important that we develop incentives to encourage international mining companies to list on the GSE which would deepen the Ghanaian capital market.".
Commenting on the historical partnership, Professor Douglas Boateng, the Chairman of the Board of Directors at MIIF said, "Successful economies continue to rely on their stock markets to boost economic growth and development plus create long term wealth for their nationals. In our supervisory capacity, the MIIF board of directors will work closely with the executive to ensure that carefully selected and forward-thinking companies from minerals and metals sectors are traded on the Ghana Stock Exchange." This will give Ghanaians the opportunity and options to invest in the strategically important sector. Boateng concluded.