Governing Council
The Exchange is governed by a Council of nine representing three independent members, two representatives of licensed dealing members, two listed company representatives and two executives
The Council of the Exchange has various committees, which enable it to give special attention to various aspects of the operations of the Exchange. They are the Listing, Finance and Risk Management and Surveillance.
The following are the key roles of the various Committees.
Listing Committee considers applications for listing
Finance Committee considers the financial aspects of the Exchange's operations, including budgets and remureration.
Risk Management and Surveillance Committee appraises, and approves applications for membership.
Management
The day-to-day management of GSE is the responsibility of management staff headed by the Managing Director and assisted by the Deputy Managing Director.
Council Members
ALBERT ESSIEN
Mr. Albert Essien provides Consultancy and Advisory work to business especially in banking and finance. Currently, he is the Director on the Board of Old Mutual Ltd in South Africa. Mr Essien is the Chairman for the Endowment Fund of the College of Physicians and Surgeons Ghana. He did serve as a Senior External Advisor for Mckinsey & Co. In a career spanning more than 20 years.
Mr. Essien has held a number of key appointments in the Ecobank Group, including Regional Head for the Rest of Anglophone West Africa, the Eastern and Southern Africa (ESA) regions and Group Chief Executive Officer. In Ecobank Ghana, he held many positions including Deputy Managing Director and Managing Director.
Albert Essien has a degree in Economics from the University of Ghana and is an alumnus of the Executive Development Program of INSEAD (France/Singapore). He is also an honorary fellow of the Chartered Institute of Bankers, Ghana. He is currently the chairman of the GSE Council.
MICHAEL ADDO
Michael has over two and half decades of broad financial and operational management experience from both the USA and Ghana. He is currently the Deputy Director General (Finance & Administration) of
SSNIT. Prior to that, he was Executive Director of both  Emex Oil Ndawta Ltd (a downstream oil and gas company with presence in Ghana and Nigeria) and Bridith Impex Ltd, (a procurement and commodity trading company with presence in Ghana and Nigeria.
Prior to that, Michael was the General Manager of Investments and Development for the Social Security and National Insurance Trust (SSNIT), Ghana's 1st tier pension scheme. Michael provided investment leadership and management of the Pension Fund, with US$1.5 billion assets under management. He also led
the revision of SSNIT's asset allocation policy and investment guidelines in preparation for the
implementation of Ghana's pension industry reform guidelines and statutes in 2008.
Michael holds a MBA (Finance) and MS (Insurance) from the Johnson Graduate School of Management at Cornell University, New York, and the Barney School of Business at University of Hartford, Connecticut, respectively.
MR. ARMAH I. J. AKOTEY
Armah is the Head of Brokerage at Databank Brokerage Limited (DBL) – a licensed dealing member of Ghana
Stock Exchange (GSE). He is responsible for the development and execution of the strategic intent of the firm. Armah has over 13 years' experience in Ghana's Securities Industry. He has an in-depth understanding and working knowledge of Ghana's capital market, particularly equity and debt capital markets. Prior to this role, he supervised the Trading and Back Office operations of DBL. Armah has been instrumental in the maintenance of DBL's strong equity trading on the GSE, as well as developing strategic trading relationships in North and South Africa.
Armah holds a Dealers' Representative License from the Securities and Exchange Commission (Ghana) and is an Authorized Dealing Officer of the Ghana Stock Exchange. He is also a professional member of the
Chartered Institute of Bankers (Ghana). He holds a postgraduate degree in Finance (MBA) and a BSc in
Business Administration (Finance and Banking) both from the University of Ghana.
MRS. LETICIA OSAFO ADDO
Madam Leticia Osafo-Addo is the current national treasurer of the Association of Ghana Industries. She is also the founder and CEO of Samba Foods, the first company to commercialize shito.
She was educated in Germany from 1969 to 1979 and holds SRN from Krankenhaus-Maria Hilf, a diploma in Anesthesiology and Intensive Care Therapy from Universitat Klinik – Staedtishe Kranken Anstalt, Krefeld in Germany, an MBA (Management Technology & Innovation) from Wageningen Agricultural University, Wageningen, The Netherlands. A Diploma in Quality Assurance & Marketing in Food Processing from International Agricultural Center, Wageningen, The Netherlands. She is also a Fellow of Ron Brown Institute, Georgia State University, Atlanta Georgia, USA and holds a certificate in Food Processing & Preservation from the Food Research Institute, CSIR, Ghana.
Madam Leticia Osafo-Addo is a resource person in Entrepreneurial Development Training; a motivational speaker and mentoring of young people in tertiary institutions; trainer in the training of women in food processing and preservation; a role model ambassador of the Government Role Model Programme of COTVET under the Ministry of Education.
She serves on various government boards and institutions throughout the country.
MR. RAY SOWAH
Ray Sowah has been a Banker in the City of London for 30 years and has worked extensively in the erstwhile Ghana Commercial Bank London Branch, Ghana International Bank London and Bank of Montreal Capital Markets, London.
He is a commercially astute Business Banker & Lawyer with a consistent record of success in optimising the market, revenue, profit and service performance of organisations operating in challenging environments.
He has held senior management positions in Compliance, International Trade Finance, Retail Banking, Business Development and in the UK Capital Markets. Ray Sowah attended Mfantsipm School, Cape Coast, and has a BA Honours Degree in English & Philosophy from the University of Ghana, Legon. He is a Barrister at Law and Solicitor of the Supreme Court of Ghana and a member of the British Banker Association, Business Council for Africa and the Association of Foreign Banks, all in London.
K. S. YAMOAH

 
Kofi is a product of Mfantsipim School; University of Ghana Business School, Legon; and the China Europe
International Business School. He holds a B.Sc. Administration and MBA degrees as well as a professional certificate of the Institute of Chartered Accountants, Ghana. He is a chartered accountant and an investment banker by profession. Mr. Yamoah has had extensive executive training and study tours in many capital market institutions in Africa, Europe, the US, and Asia. His career with the Exchange dates back to the formative days of the Exchange in December 1990. He has served in various capacities including being the Presiding Officer on the Trading Floor, Financial Controller, Senior Manager, Operations and General Manager. He was appointed the Managing Director of the Exchange in April 2003. He serves on the Boards of Barclays Bank of Ghana Ltd, the Central Securities
Depository Ltd, the Accra Institute of Technology and the Governing Committee of the Fixed Income Market (GFIM).
REGINALD N. FRANCE
Reginald N. France, is a Founder/Managing Director of  Boulders Advisors Limited (BAL), a specialized consulting
firm headquartered in Ghana, providing a full range of  investment banking advisory services to business
entities, government and public sector institutions in Africa.
Mr. France is a Securities and Exchange Commission  Licensed Investment Representative. He has significant experience in the financial, capital markets,  telecommunications, health, and hospitality sectors. His  areas of practice include project management, pension design and investment consulting, asset management,
structuring and obtaining financing for acquisitions,  management buy-outs, expansion financing and
recapitalization, financial investigation and forensic accounting.
Mr. France is the immediate past President of the Ghana Securities Industry Association and serves on the
following Boards, UT Life Insurance Company, Early Power Limited, Amandi Energy Limited, and Secure Pensions Trust Limited.
He received his BBA (Accounting) from Bernard Baruch College, New York.
MR. EKOW AFEDZIE
Mr. Ekow Afedzie is currently the Deputy Managing Director of the Ghana Stock Exchange. He was educated at the University of Ghana, Legon, Ghana where he obtained a Masters Degree in Business Administration, (MBA) and a Master of Arts degree (MA) in Economic Policy Management. He also holds a Bachelor's degree in Law (LLB) from Mountcrest University College. Mr. Afedzie is a member of the Chartered Institute of Marketing, Ghana.
He joined the Ghana Stock Exchange in 1990 when it was established and has served as the Head of Marketing, Research and Systems, then the General Manager before becoming the Deputy Managing Director of the Exchange.
He has also made contributions to local and international research on stock markets, and presented papers on stock market operations at many local and international fora.
He serves on the Board of the Central Securities Depository (CSD) Ghana Ltd., as well as a member of the Ghana Alternative Market (GAX) Governing Committee.  He is also a member of the Board of the Ghana Investment and Securities Institute Ltd.  Mr. Ekow Afedzie is a member of the Management Committee of the Business School of the University of Ghana, the Governing Committee of Ghana Fixed Income Market (GFIM) and also that of the Governing Council of the Ghana Securities Industry Association.
EDEM AKPENYO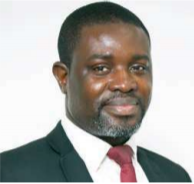 Edem Akpenyo is currently the Managing Director of FirstBanC Brokerage Services Limited. He joined the Securities brokerage community in 2004 as a national service person. He was licensed by the Securities and Exchange Commission as a Dealer's Representative and the Ghana Stock Exchange as an Authorized Dealing Officer in 2005. He comes with vast experience in the stock brokerage industry in Ghana. His responsibilities have included: trading on the Ghana Stock Exchange, financial analysis, portfolio structuring and management, investment advisory services and research. He has taught in various investment seminars and currently lectures Securities Trading and Investment Advisory Techniques in the Ghana Securities Industry Course organized by the Ghana Stock Exchange.
Prior to joining FirstBanC, Edem worked with Capital Alliance Company Limited, NTHC Securities Limited and HFC Investment Services Limited, where he acquired further experience as a manager of a Mutual Fund. Edem graduated from the University of Ghana Business
School with a BSc. Administration degree in Finance and recently earned a Post Graduate Certificate in Anti-Money Laundering and Financial Crime. He is a member of the Institute of Directors (loD), Ghana. He is in the final stages of earning a Master's degree in Finance and Control with the Amity University. He has undertaken various capital market courses with the United Nations Institute for Training and Research (UNITAR) and the Ghana Stock Exchange.